7 Features to Look for in a Restaurant POS System
April 28th, 2023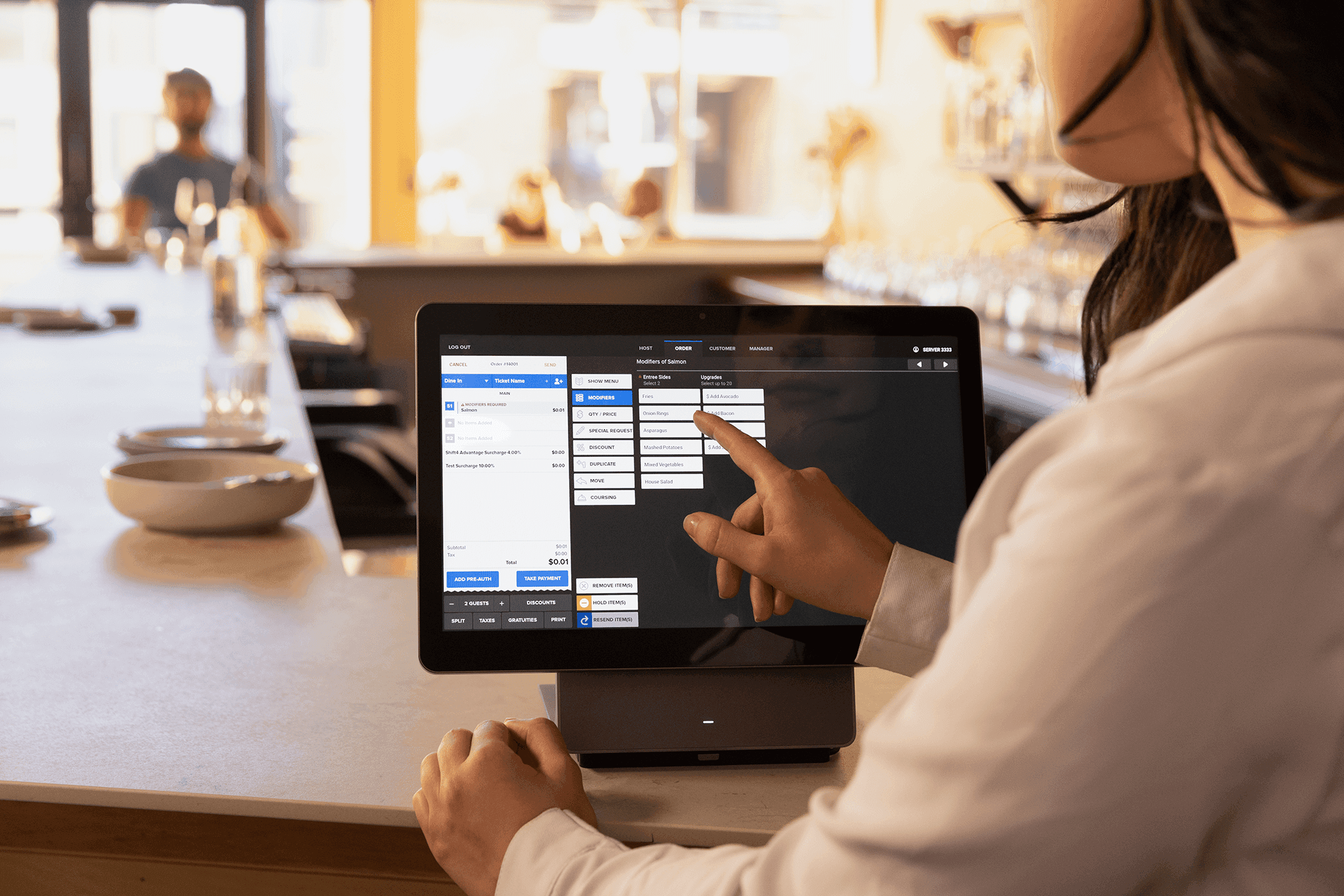 Restaurant technology is revolutionizing the way we eat out (and order in). From customer-facing tech like online ordering, mobile payments, and QR code menus to back-of-house systems, including automated inventory management, purchasing, and AI-driven decision-making. In fact, the global food tech market is expected to grow by more than 55% to reach $342.5 billion by 2027.
There's one crucial node in a restaurant's tech stack that ties all of these components together – the restaurant point of sale system.
That's why choosing your point of sale system should be one of your restaurant's top priorities. The right restaurant POS system is the foundation that the rest of your technology should be built upon.
Let's explore the essential features of a modern POS so you'll know what to look for when choosing one for your restaurant.
What is a POS System for a Restaurant?
POS stands for point of sale and was traditionally a networked solution that processed transactions as customers left the restaurant. Over time, the concept of a restaurant POS system has evolved from a simple cash register to pay your check to the hub of your entire operation.
Modern POS systems have a lot more features and aren't confined to a stationary setup in a restaurant. It's now commonplace for POS software to run on mobile devices inside and outside the restaurant — for ordering at the table or taking payments for curbside takeout, for example.
The POS now acts as the central processing unit for the business. The right POS integrates seamlessly with your other restaurant software solutions to make data sharing across your business efficient and valuable.
Why Choosing the Right POS is Important
Your restaurant's POS system is used by your staff day in and day out to perform essential tasks like taking orders, processing payments, and communicating information to customers. So, you must choose a POS system with the appropriate features, functions, and hardware for your restaurant.
The right POS can streamline your restaurant operations, simplify tasks for your team, connect your front and back-of-house, and provide you with all the data you need to optimize your processes and profits.
Having the best system in place for your restaurant will help it run more efficiently in every department. This can lead to increased sales, improved customer experience, lower labor costs, and reduced food waste.
7 Features to Look for in a POS System
How can a point of sale system provide all of the benefits we've covered? Here are the essential POS features to consider when choosing one for your restaurant.
1. Contactless Payments & Ordering
What was once considered a nice-to-have or a futuristic feature is now table stakes for a modern dining experience. As more people become accustomed to dining out with minimal contact, touch-free ordering and payments are quickly becoming the norm.
Whether you operate a sit-down table-service restaurant or a quick-service cafe, contactless dining can be implemented for a variety of concepts.
A point of sale system like SkyTab POS will deliver contactless dining in two flavors: mobile ordering and payments.
With tableside ordering, servers can take a customer's order and then send that order to the kitchen using a handheld device.
Tableside ordering improves efficiency on the frontline of the restaurant while providing customers with a better experience. Servers don't have to go back and forth between the POS terminal and the table or risk making errors with pen and paper.
If customers prefer to order on their mobile device, they can scan a QR code at the table that brings up a menu on their smartphone. They can browse, order, and pay, and their order is sent straight to the POS.
Mobile ordering isn't confined to the table, though. Contactless payments can be taken on portable payment terminals wherever the customer is — at the table, counter, or curbside. QR codes can even be used to bring up a customer's bill on their own device.
In the restaurant, contactless payments eliminate the need for servers to leave the table with a customer's credit card. Not only is this more efficient, but it also promotes a sense of security.
2. Reservation Management
With table reservations coming in from multiple channels, your POS solution needs the tools to manage all that information. Not only do you need to give the customer a smooth booking experience, but you also need to gather the all-important customer data.
Gone are the days of a tattered reservation book. Digital reservation management systems have cleaned up the process of taking reservations and managing waitlists at the door.
Reservations coming in from multiple channels can be handled by the POS system:
Customers can book online, with the information sent to the POS via a built-in feature or direct software integration.
Phone reservations can be manually added to the POS by staff members.
Walk-ins can be added to the waitlist at the door. Customers get a clean experience with an online booking system and staff saves time and hassle with a system that holds all the data.
3. Customer Loyalty & Marketing Tools
One of the benefits of digital reservation management is what you can do with customer data. With all your best customers' details and dining preferences stored in your system, you can develop marketing campaigns and loyalty programs to boost repeat business.
SkyTab helps you collect customer email addresses, for example, so you can send them special offers tailored to their preferences. It allows you to segment your audiences into like-minded groups so that they can be targeted with more effective campaigns.
It's hard to overstate the importance of remarketing and loyalty programs, as it could cost as much as 25 times more to acquire a new customer than to retain an existing one. Putting an effort into your marketing can easily pay dividends.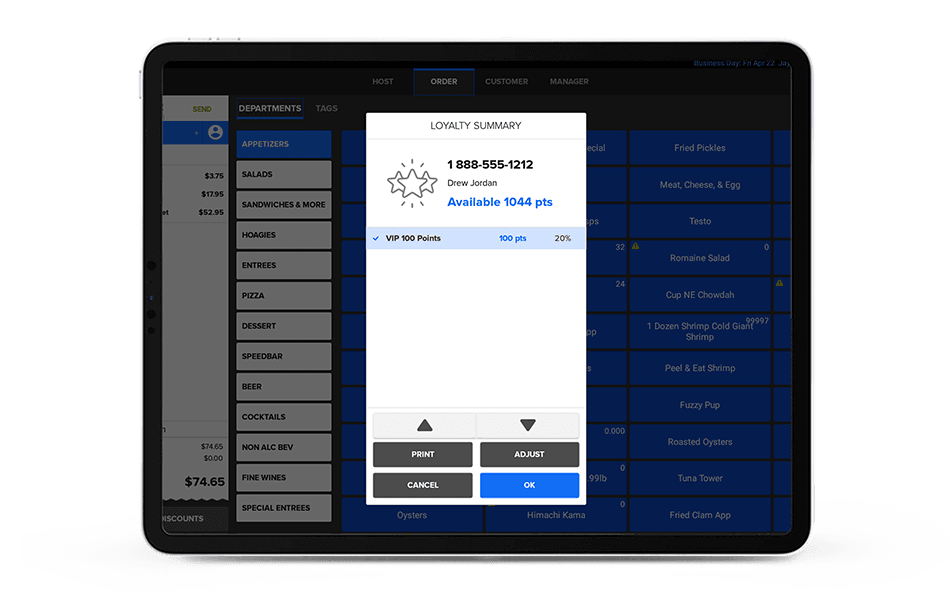 4. Robust Reporting and Analytics
Because your POS system is tracking so much data, it becomes the ultimate source of truth when it comes to the financial side of the business.
Therefore, your POS system must have excellent reporting and analytics capabilities that you can get the most out of your data.
Customer and business data can drive the most critical business decisions, such as optimizing staffing levels, which dishes to promote on the menu, and inventory and stock management decisions.
The right system will be able to produce detailed sales, employee, inventory, and customer reports at the click of a button. This allows management to make data-driven decisions quickly in all areas of the business.
5. Third-Party POS Integrations
As we've seen, modern POS technology can do a lot. But certain functions are better performed by a more specialized piece of tech. To connect those pieces, you need a POS solution that will integrate with your other restaurant applications.
The POS system is where sales and customer data come into your restaurant software platforms.
So it affects how the rest of your system processes that data. If all your data is in a consistent format, all your tech platforms can use the data and communicate information effectively.
Third-party integrations with other software providers gives you everything you need to run the business. Here are some of the functions you can unlock with the right POS integration:
Inventory Management and Purchasing
Most POS systems come with essential inventory management functions. For example, when a customer orders a steak, your POS system is not only adding it to the bill and alerting the kitchen that an order has been made.
If the POS is integrated with your inventory system, it can share the information that a steak has been ordered so stock levels can be updated. If levels reach a certain threshold, an alert can be sent to the owner or manager.
Marketing & Loyalty Programs
Connect your POS to specialist marketing software to gain access to marketing automation tools and loyalty features. POS customer data can be used to create segmented audiences to run more effective campaigns and loyalty programs.
Labor Management
One of your most important assets are your employees, so you'll want a POS with built-in labor management features to improve scheduling, payroll processing, and other staff-related tasks is ideal.
Accounting Software
Financial data from your POS is passed directly to your accounting software, eliminating the need to print or download data and then re-enter the information manually. Trust us, your finance team will thank you!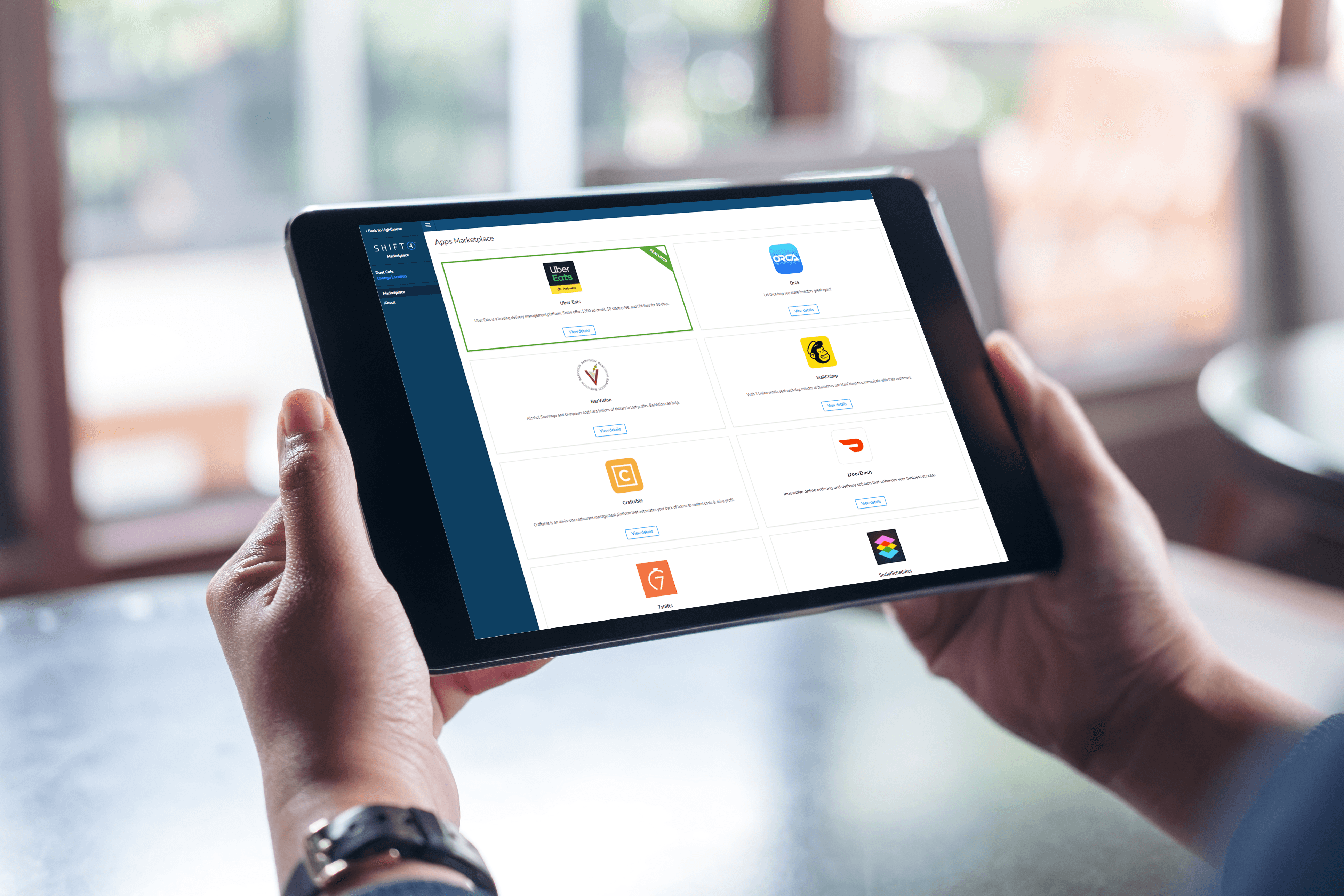 6. The Latest Hardware
A POS system is only as good as its hardware. Running your restaurant with out-of-date, bulky devices will slow down service and annoy customers and servers alike.
Your system should interact seamlessly with sturdy, stylish, and functional POS hardware. Here are the key devices to look out for:
POS Terminal: A touchscreen terminal with a sleek design looks sexy and doesn't take up too much space in the restaurant.
Receipt Printer: Many customers still prefer paper receipts, so you want to have the option available.
Cash Drawer: We're not in a cashless society yet, so many customers will still want to pay with paper money.
Credit Card Reader: EMV and contactless credit card readers are essential for efficiency and data protection.
Mobile Devices or Tablets: A mobile ordering device saves servers time and reduces errors, and can also accept payment at the table for increased efficiency.
Kitchen Printer & Kitchen Display System: Connecting your POS to a kitchen display system and ticket printer will improve communication between the front and back-of-house and speed up service in the kitchen.
7. Affordable Pricing
One thing we haven't mentioned yet is the cost of your POS system. You want it to have all the features you need, but it also can't financially cripple the business.
Lucky for you, some POS providers won't charge for hardware up-front and provide the software on affordable monthly payments. Gone are the days when you needed to outlay thousands of dollars on physical infrastructure like networked servers and bulky terminals that take up space in your restaurant.
A cloud-based POS system is more like a software subscription service with the latest hardware provided and upgraded when you need it.
The Right POS System Spells Success for Your Restaurant
These days, a modern POS solution runs from the cloud and seamlessly connects with your restaurant's other business management applications.
It should come with the latest payment and ordering hardware and robust reporting and analytics tools — all while staying affordable. No matter which POS you choose, ensure it has these powerful features.