SkyTab Referral Program: How to Earn a $2,000* Referral Bonus
August 28th, 2023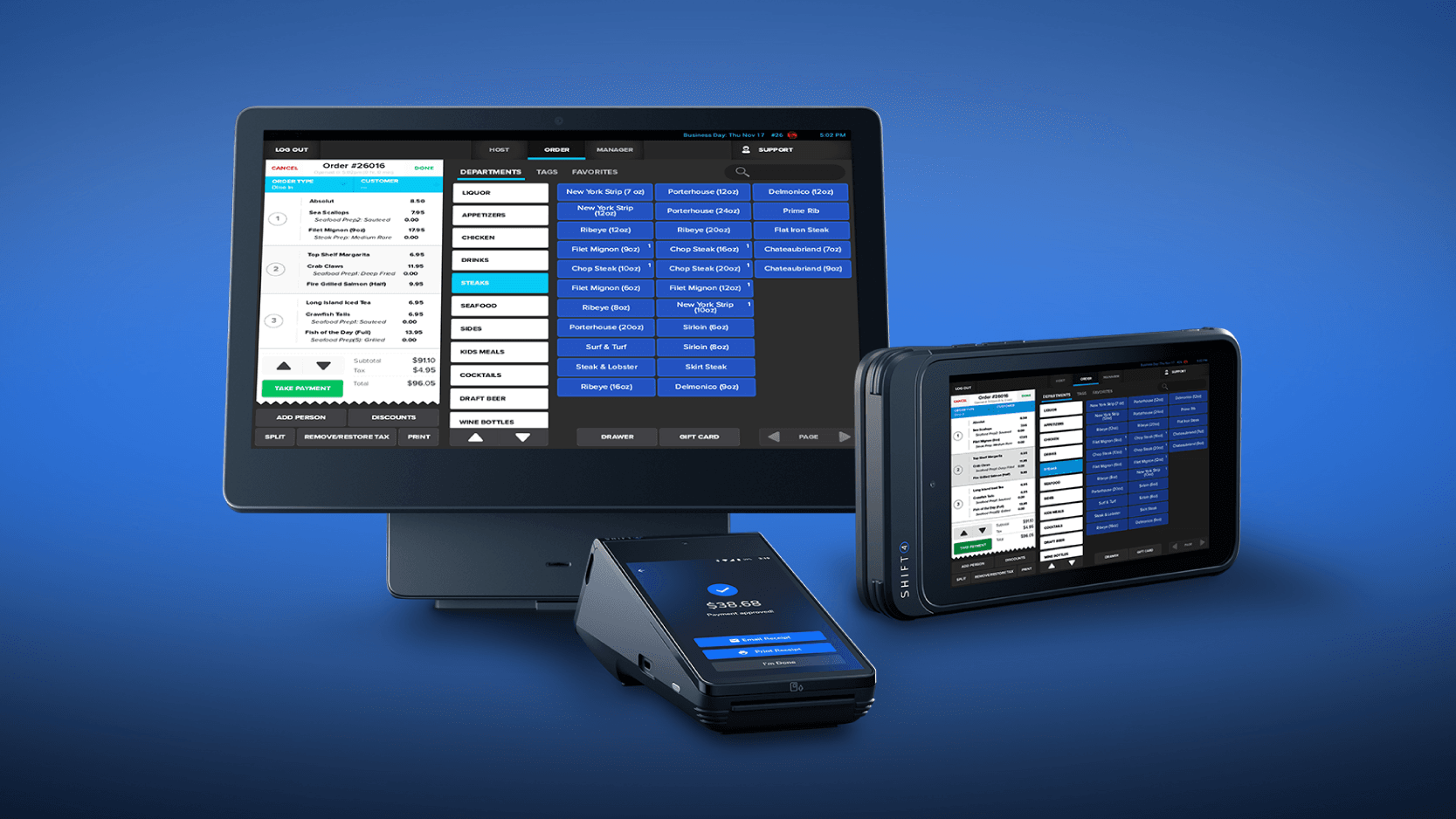 Do you love how SkyTab has streamlined your restaurant's operations? Or have you had a great experience using SkyTab at a restaurant you frequent? However you've enjoyed SkyTab, there's now a way to get rewarded when recommending it to another business.
Introducing: the SkyTab Referral Program. We offer the most competitive and attractive referral program in the industry. Your success is our success, and we want to ensure that you are generously rewarded for your efforts.
What is the SkyTab Referral Program?
With our POS referral program, anyone, yes, anyone, can refer a business. We've made it effortless for someone passionate about SkyTab to start earning with our referral program.
If you know of a restaurant or bar that can benefit from SkyTab's next-gen POS system, send them our way and we'll send some extra cash your way.
Why Partner With SkyTab?
While SkyTab may be the new kid on the block when it comes to point-of-sale systems, we've got some well-established roots that set us apart from the rest.
SkyTab is backed by Shift4 — a global leader in commerce-enabling technology. For 25+ years, Shift4 has powered payments for restaurants, hotels, retail merchants, and other businesses.
Your referrals are getting a complete end-to-end solution that empowers them to operate more efficiently and run their business on their terms. Any restaurant you refer is in good hands with us.
Last but not least, your referrals also get:
24/7 in-house customer support
Local support and service
Ironclad security with point-to-point encryption
Integrated online ordering and reservations
Marketing and loyalty tools
Advanced reporting and business intelligence
And for a limited time - a $5,000 signing bonus when switching from another POS system!
So, let's toast to the beginning of something great! Ready to get started?
How to Start Earning with the SkyTab Referral Program
So, how do you get started? We've made our referral program as simple as possible to enable you to get restaurants on board with our supercharged tech.
Step 1: Sign Up as a SkyTab Referral Partner
Signing up to be a SkyTab Referral Partner is quick and easy! Simply visit skytab.com/referral to sign up.
On this page, you'll need to complete a simple form that asks for basic information, including your name and contact details.
Once you've completed the form, you'll be given access to Impact — the referral management platform we use for the SkyTab Referral program. In Impact, you can view the status of your referral payouts. (We'll get to this later)
Step 2: Complete the Referral Form
Once you've successfully signed up for the SkyTab Referral Program, you'll be automatically redirected to your custom referral form. Remember to save and bookmark the custom link provided to you — this is your custom SkyTab referral link that you will continue to use for every referral.
To finish submitting your SkyTab referral, simply complete your custom referral form. You'll need to enter the merchant's contact information, and you can choose to include details such as their website or your SkyTab Sales Representative.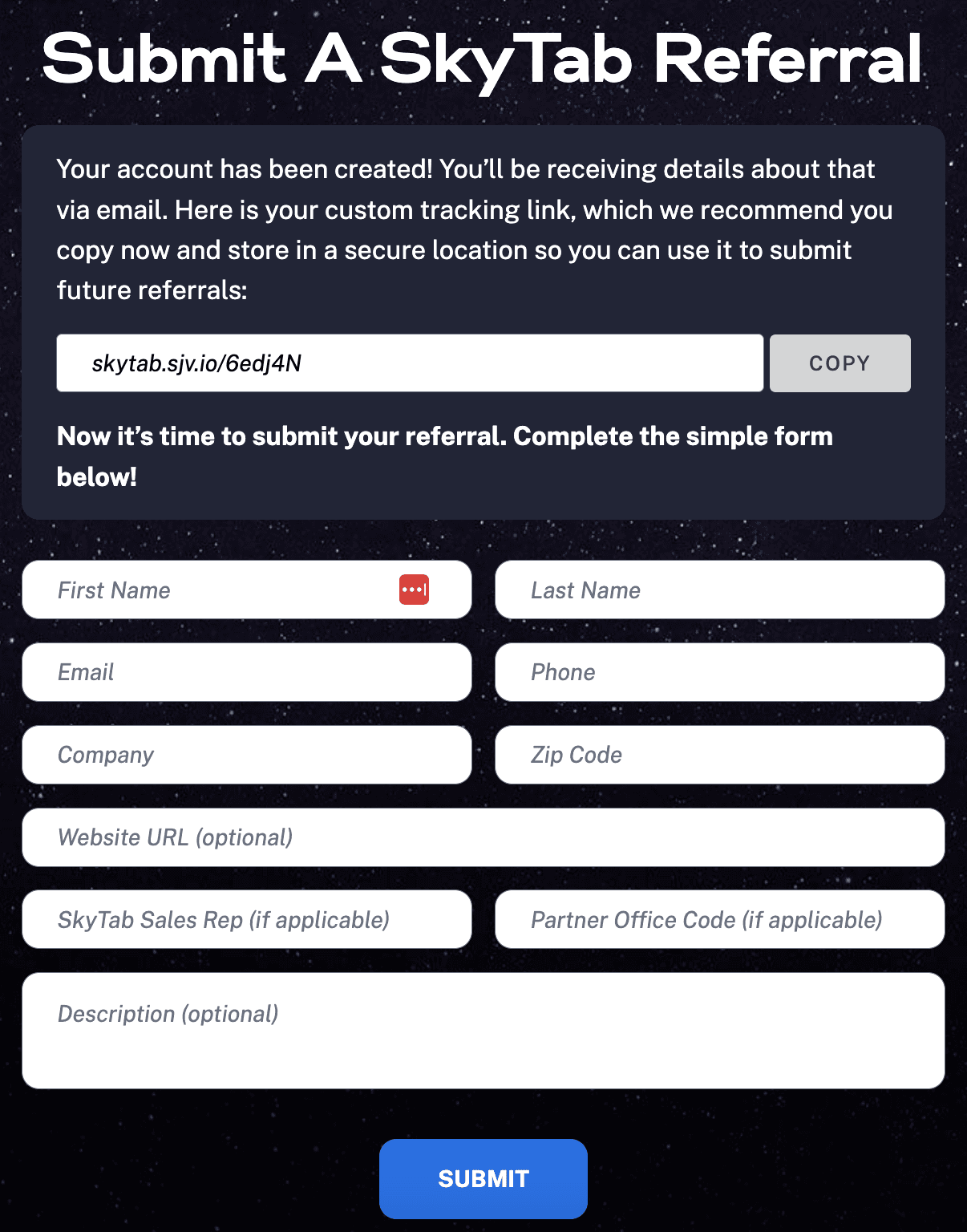 Step 3: Add Banking & Tax Details
Once you've submitted your referral form, you should receive an email with instructions on setting up your payment details in Impact. To receive your referral payout, you will need to add your banking and tax details to the platform.
To complete this step, you'll need to:
Log in to Impact using your email address.
Add the required Tax Documents. Once logged in, navigate to the Tax Documents section > Select Form W-9 > Select Continue > Complete and submit the form electronically.
Add your Bank Account information. Once logged in, navigate to the Bank Account section > Add your bank account or PayPal information > Set your desired payout schedule > Select Save.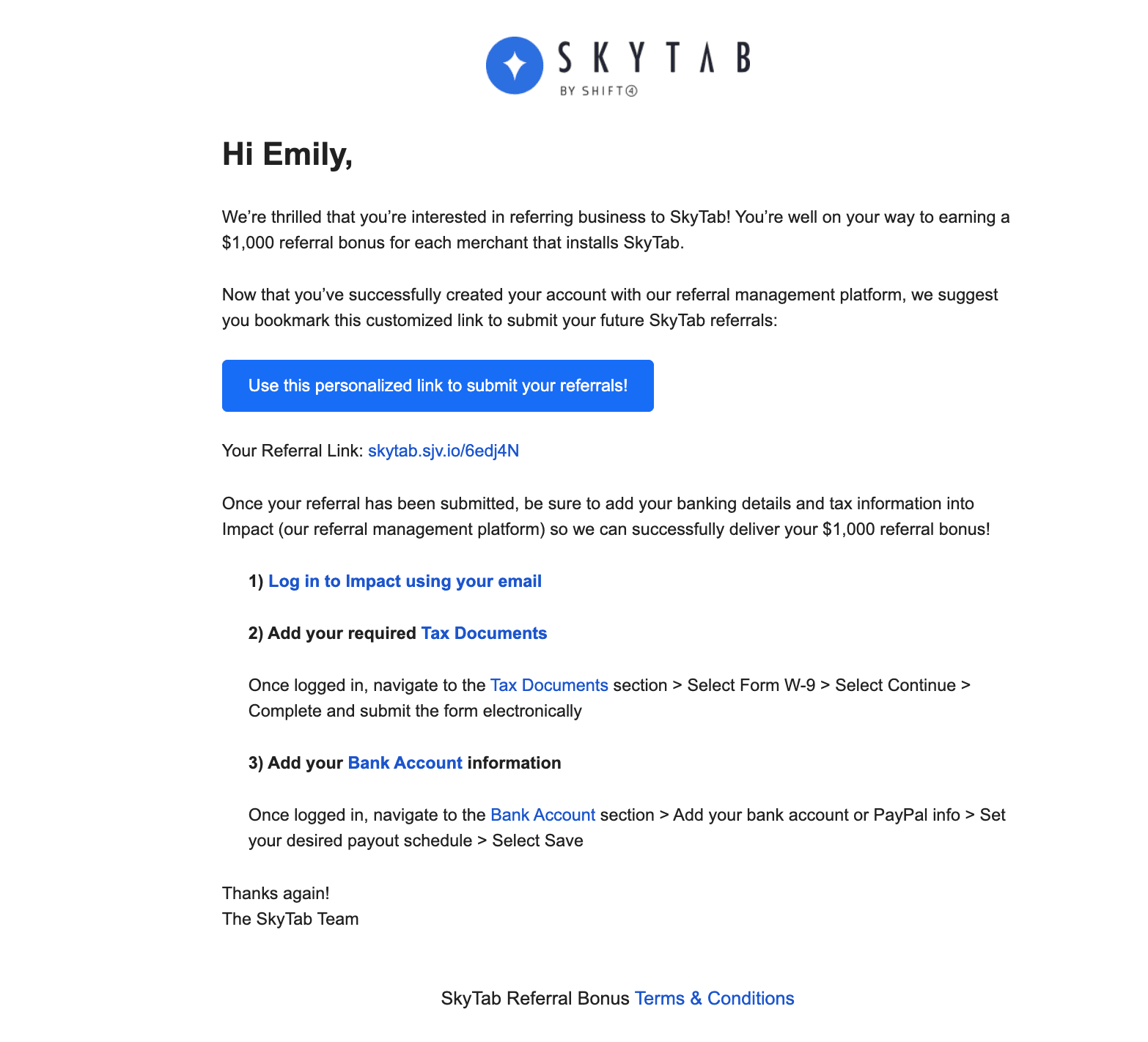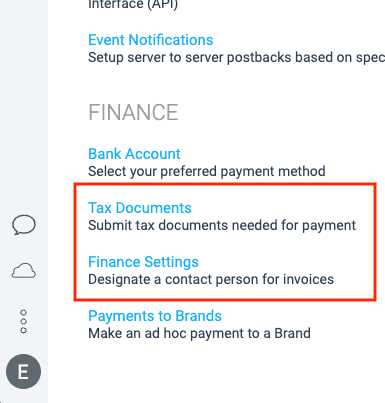 Step 4: The Business Is Setup, Installed, and Processing
As soon as your referral form has been submitted, our sales team will contact the business. Now, you only need to sit back and relax while we do the rest! Our team will walk them through setup, installation, and processing.
Once the restaurant you referred is processing payments with SkyTab, your $2,000* referral bonus payout will be triggered. You will be able to see that pending payout in Impact.
Step 5: Payout is Issued Automatically
Cha-ching! It's time for the money to roll in! Once your pending payouts have been approved, they'll be automatically issued to your bank account based on the information you added to Impact.
Join the SkyTab Referral Program Today!
We told you it was that easy! You can be rewarded for sharing SkyTab's next-gen tech with the world with just a few simple steps. And, with all of the advanced benefits that SkyTab offers, you can rest assured that your referred restaurants are getting a best-in-class solution.
Ready to start making money with SkyTab? Get started at skytab.com/referral.
*The $2,000 referral bonus is a limited-time promotion.